Columbia Pacific helps harness the power of 'youth voice' to break barriers to care
Oct 16, 2023, 21:23 PM
Members of the North Coast System of Care network meet regularly to discuss how to work together to break barriers to care and other support services for young people and families in Columbia, Clatsop and Tillamook counties.
Not long ago, the voices of those young people were largely missing from the conversation. To rectify this, the network (convened by Columbia Pacific) turned to one of its longtime members, Youth Era, to establish and run a youth advisory council made up of teens from Columbia County. Columbia Pacific helped secure a state grant to fund the advisory council, one of the first of its kind in Oregon.
The advisory council "brings youth voice and choice to the barriers affecting our county," said Nick Clark, Program Manager for Youth Era in Columbia County. Clark facilitates the council with his colleague Caitlan Wentz, Drop-in Service Director for Youth Era.
Youth Era built on its existing connections in Columbia County to form the advisory council. As in other parts of the state, Youth Era hosts free online events and provides one-on-one support for young people in Columbia County. It also runs support groups in the county and has been working to open a drop-in center there.
Nick Clark, Program Manager for Youth Era in Columbia County
What is a system of care?
The North Coast System of Care is a network of young people, families, community organizations, clinical providers and state and local agencies. It is one of more than a dozen local and regional systems of care across Oregon.
Together with the state System of Care, the organizations work to improve access to, and the quality of, behavioral health services for youth and families. The goal, according to the state, is to "create an array of services and supports that are youth- and family-driven, community-based, and culturally and linguistically responsive."
"In our region, there was a huge interest in wanting to hear from youth about what it's like to navigate the barriers they face every day," said Qurynn Hale, Behavioral Health Program Manager for Children, Youth and Families at Columbia Pacific.
"If we want to break barriers, we need to hear directly from young people about their experiences, or we run the risk of creating provider-driven solutions that fall short," said Hale.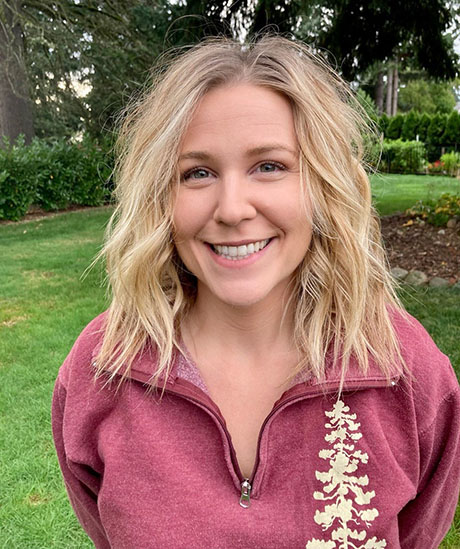 Qurynn Hale, Behavioral Health Program Manager for Children, Youth and Families, Columbia Pacific CCO
Creating a magical space
Youth Era worked to create an advisory council made up of young people with different lived experiences, including houselessness, mental health challenges, substance use and respite care (programs for children or adults that provide short, mental-health breaks).

"We wanted a wide variety of people [to serve on the advisory council] because at a young age, you don't necessarily understand everyone else's lived experiences," explained Clark. "It really creates a beautiful conversation," he added.

Youth Era has created what Hale calls "magical space," cultivating a level of trust among council members that makes it easier for them to have honest conversations about difficult topics.
Since its first meeting in March 2023, the council has taken a deep dive into several topics, including respite for youth and families, lack of mental health resources in schools and substance use.

Unpacking respite care
In meetings focused on barriers to respite, Youth Era asked council members to consider such questions as: Where would you want to go if you needed respite? What should be involved in successful respite? Who should be able to ask for respite?
"School can be an escape," noted one participant. "Starting off with a good breakfast [would help make respite successful]. A lot of people don't have access to consistent food," noted another.
In rural Columbia County, where residents often travel long distances to access services, providing transportation to respite would also make programs more successful, said one council member.
Youth input fosters new ways of thinking
Feedback from the council has helped members of the North Coast System of Care reframe their thinking about respite care, looking at the subject through a more-holistic, youth-centered lens, said Hale. That's especially true when it comes to respite care for resource (or foster) parents.
Respite care for resource parents is when one family temporarily cares for another family's foster child. The arrangements can have many benefits, including helping full-time resource parents manage their stress by taking a break from caregiving. But short-term stays in so-called respite homes can be disruptive to children and teens in foster care, undermining their sense of autonomy.
"System of care members have been able to unpack the formal and informal notions of respite to consider what's possible and how we can support youth in finding a place of respite," Hale explained.
"It has been beautiful," she added, "to watch the continuum of care grow and to think about how we can support youth in their communities, where they want to be, versus where we think they should be."
Cultivating community and empowerment
The council has also had some unexpected benefits. Because meetings are held virtually, it has created a platform for young people to make social connections with peers from across the vast county. Serving on the council has also helped empower participants, whetting their appetite for community engagement.
In early October, members of the council spoke at the Columbia Pacific community Substance Use Disorder (SUD) Summit. At a session called "what we wish the adults knew," they shared insights on what it's like for young people to navigate the SUD treatment landscape in Northwest Oregon.
"Council members have formed connections to each other and to their community," said Wentz of Youth Era. "They see that they get to have a voice in making the fundamental changes they want to see in the place where they live."