Whether you're a first-time parent or adding to your family, Columbia Pacific CCO is here for you
Pregnancy is a one-of-a-kind journey! Columbia Pacific is ready to walk beside you, today and after your baby is born.

Like always, we cover physical, dental and mental health care, and substance use treatment. But pregnancy and parenthood are special, so we and the community offer extra resources to you now.
Pregnancy and family support
Columbia Pacific has lots of ways to support you – and your whole family -- during these nine months and after.
Check out this pregnancy booklet: " CareBaby: Your helpful guide to a healthy and happy pregnancy.
This booklet is just for Columbia Pacific members.
It's also available in Spanish here.
We'll mail you a printed copy after the Oregon Health Plan (OHP) lets us know you're pregnant. (We'll also confirm that with you or your provider.)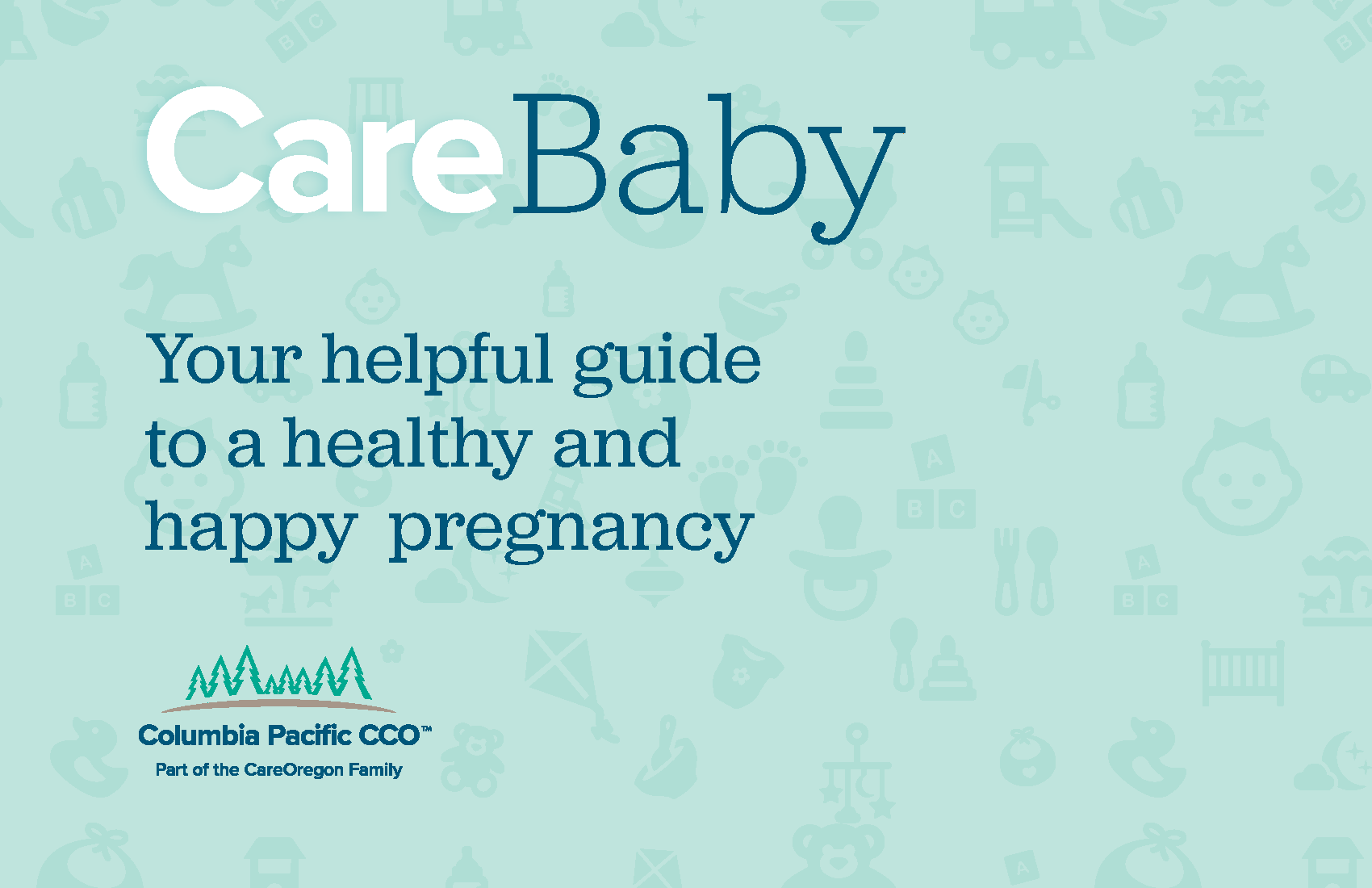 Are you pregnant but have not received a copy of the CareBaby booklet? OHP records may need updating about your pregnancy. Columbia Pacific Customer Service is happy to help with this. Please contact us.

Contact Columbia Pacific
Call: 503-488-2822 | Toll-free: 855-722-8206 | TTY: 711
Secure messaging through the member portal: colpachealth.org/portal
Sign up for First Steps. This free Columbia Pacific program rewards and supports you for making healthy choices during pregnancy.
First Steps is being phased out in 2023 and closed to new registrants as of January 1, 2023. If your enrollment start is on or before December 31, 2022, you will keep receiving your rewards during and after your pregnancy.
Find more info about First Steps here.
Earn up to $450 in gift cards for your baby's needs.
Connect with First Steps partners near you.
Have questions about First Steps? Ask Customer Service.
See a dentist while you're pregnant.
Dental care is safe – and good for you and your growing baby.
Check your Member ID card for the name of your dental care provider.
Use a birth doula or other traditional health worker. .
Traditional health workers (THWs) are a free member benefit.
Research shows that using a birth doula increases the chances of a healthy birth for you and your baby.
What are traditional health workers?
Traditional health workers are public health workers out in the community, or with a clinic or hospital.
We cover five types of traditional health workers, including birth doulas. THWs:
May have had experiences like your own.
Get to know you and your unique needs.
Connect different parts of your health care to make sure you get what you need.
Birth doula: Trained birth companion who offers personal support to you and your family during your pregnancy, childbirth and beyond.
Community health worker: A trusted, knowledgeable member of a community. Helps connect communities with health and social services.
Peer support specialist: Has lived experience with mental health or substance use services. Offers supportive services to you or your family if you are going through the same thing.
Peer wellness specialist: Has both lived experience with a psychiatric condition and intensive training. Works as part of a home health team that combines mental health care with primary care.
Personal health navigator: Offers information and tools to help you make the health care choices that are right for your needs.
Want to meet with a traditional health worker? Talk with your prenatal or primary care provider or behavioral health clinic (mental health or substance use treatment). They can check which traditional health workers are in our network.
You can also search the Oregon traditional health worker registry.
What are birth doulas?
Birth doulas are trained, certified birth companions who:
Provide personal, non-medical support for you and your family.
Help during pregnancy, childbirth and after your baby is born.
Are a covered benefit for Columbia Pacific members.
Doulas registered in Oregon have completed certified training and background checks.
Request a baby bassinet and new parent kit
We have gifts for you and your baby!
A baby bassinet offers a safe sleep space.
The new parent kit includes items to help with a newborn.
Contact firststeps@careoregon.org to ask for them.
Put your baby on their back to sleep — every time.
Use a safe sleep surface, like a Smitten Baby Vox, for every sleep time.
Don't let your baby sleep on soft surfaces (like an adult bed, sofa or couch).
Share a room, but not a bed, with baby. This keeps you from accidentally smothering your baby.
Keep pillows, blankets, toys and crib bumpers out of your baby's sleep area.
Don't smoke, or let others smoke, around your baby.
Dress your baby in sleep clothing, like footie pajamas or wearable blankets. (Not a loose blanket.)
Breastfeed if you are able to.
Offer a pacifier. Studies have shown that giving your baby a pacifier at night greatly reduces the risk of sudden infant death syndrome (SIDS).
Source: The National Institutes of Health
Stop smoking as soon as you can. When you're smoking, your baby is smoking. We can help you both be free of tobacco! Talking with your prenatal provider or primary care provider is a good first step.
Columbia Pacific offers many ways to help you stop smoking.
We cover a quit coach.
We cover counseling in person and by phone.
Talk with your providers about medication to help fight cravings.
Or contact Quit For Life. Call toll-free 800-784-8669 or visit quitnow.net/Oregon
A smoke-free pregnancy is healthier for you and your baby, now and in the future. Quitting while pregnant is one of the best gifts you can give your baby.
Manage your pain. We cover several options that do not use prescription drugs.
Acupuncture: We require an authorization (an OK from us) before you're treated. Providers are reimbursed for the services we cover.
Chiropractic: An authorization is not required for evaluation. We do require an authorization before treatment.
Physical therapy, occupational therapy, speech therapy and osteopathic manipulative therapy: An authorization is not required for evaluation. Authorization is not required for diagnoses that are on the state's Prioritized List of Health Services. We do require an authorization for diagnoses not on the Prioritized List.
Click here to search for these providers in our network.

Have questions?
You may have lots of questions during the months ahead. Who to ask?

When you have questions or concerns about your pregnancy: Call your clinic.
When you have questions about benefits and services: Call Columbia Pacific Customer Service.
Contact Columbia Pacific CCO
Call: 503-488-2822 | Toll-free: 855-722-8206 | TTY: 711
Secure messaging through the member portal: colpachealth.org/portal
Contact the Oregon Health Plan
Call: Toll-free at 800-699-9075
Log-on or create a ONE account to update your information: one.oregon.gov
Send a secure email with your updated infoand questions to: Oregon.Benefits@dhsoha.state.or.us
Put "Pregnancy status change" in the email subject line.
Include basic details in the body of the email: your full name, Member ID number, mailing address and phone number.
Pregnancy info and resources
As you go through pregnancy and start life with your baby, remember that Columbia Pacific and many others in the community care about your health and well-being. Please reach out when you need support.