With support from Columbia Pacific CCO, Iron Tribe Network brings recovery housing for families to Columbia and Clatsop counties
Apr 5, 2023, 15:49 PM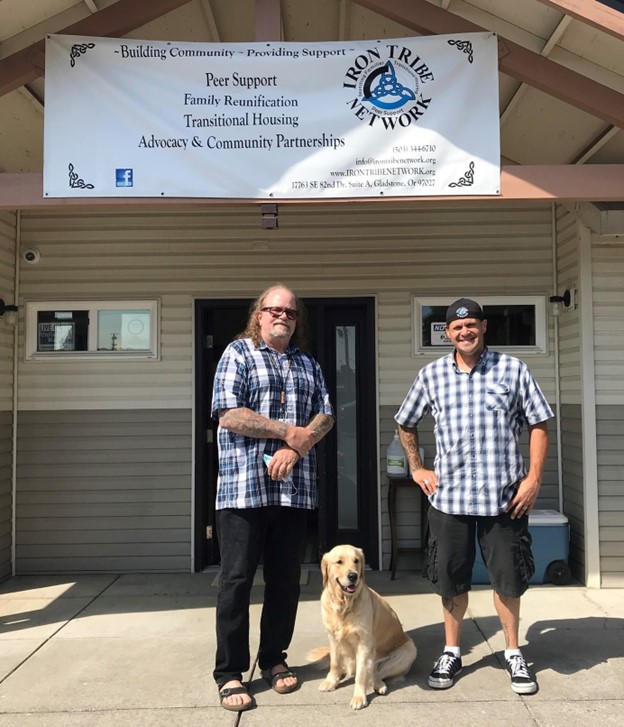 Tony Fleming (left), Iron Tribe Network Program Director; his dog, Baily; and Shawn Bower, Executive Director, at the entrance to Arnold House
At the end of a narrow road in St. Helens stands an unassuming building with an extraordinary purpose.
Arnold House is the site of a program focused on keeping families together by helping parents become self-sufficient. Iron Tribe Network, the nonprofit social services organization that runs the program, bought the former domestic-violence shelter in early 2021 with the help of a $400,000 grant from the Columbia Pacific CCO Regional Housing Impact Fund.
With the opening of Arnold House later that year, Iron Tribe Network was able to serve larger numbers of Columbia County families with children involved in Oregon's foster care system. Arnold House can accommodate up to nine families at a time.
Building life skills, supporting family stability
The Oregon Department of Human Services refers parents to the program and contracts with Iron Tribe Network for them to live at Arnold House on a short-term basis (usually six to nine months). During that time, parents work to create greater stability in their lives – with a focus on meeting state-mandated requirements for retaining their children or reuniting with them (typically during their stay at Arnold House).
While living at Arnold House, parents may take such steps as finding work, participating in parenting classes, and connecting with community-based support systems, such as 12-step programs supporting recovery from substance use disorder. And they do so with the help of Arnold House staff members who, in most cases, have faced similar challenges, including substance use disorder, incarceration, or having kids in foster care.
"It's our personal experience with some of the challenges our clients face that helps us connect with them and support them," said Tony Fleming, Iron Tribe Network's Program Director. "I just celebrated 22 years clean," he noted.
Adding recovery housing in Clatsop County
The opening of Arnold House helped address a statewide shortage of recovery-focused housing, particularly for families. Columbia Pacific CCO continues to partner with Iron Tribe Network to help meet this need in our service region.
In June 2022, Columbia Pacific's Regional Housing Impact Fund approved a $500,000 grant to Iron Tribe Network for the purchase of a 4,000-square-foot building in Gearhart. The new site, called Oster House, will allow the nonprofit to bring its recovery-focused housing program for families to Clatsop County.
Oster House, which will serve up to six families at a time, is expected to open in the spring of 2023. When it opens, Iron Tribe Network will be able to serve up to 42 families at a time at six sites statewide.
"Recovery housing for families helps preserve family unity," said Leslie Ford, Housing Strategy and Development Advisor for Columbia Pacific CCO. "It keeps families together and gives children a shot at maturing in a healthy way."
Guided by community voices
Columbia Pacific's investment in housing, including our engagement with Iron Tribe Network, is a direct result of and in response to community feedback. Access to safe and affordable housing was identified in our 2020-2024 Regional Health Improvement Plan as a top priority across our region. More than 1,900 community members provided feedback to inform this plan.
Interested in helping shape Columbia Pacific's priorities for the next five years? Join the conversation this spring and summer! Starting May 1, Columbia Pacific will be collecting stories (via a survey designed with community input) about the health-related experiences of community members.
The community feedback will inform its 2025-2029 Regional Health Improvement Plan. Look for details on our website soon about how you can help collect stories and take the survey, which will be available in English and Spanish (in print form or online).
To learn more about what we're doing to address housing needs in our region, view our 2022 Report to the Community, or visit our website.